hi nonexistent blog readers.
ha!
i thought i do some food blogging.
first off we have some oatmeal i made like a week ago. it was actually steel cut oats to be precise and the reason i remember is because i actually had time to cook em. we really need to buy some rolled oats though cause i dont have time for steel cut on school days :( *3 more weeks, 3 more weeks[sigh]*
in this awesome concoction i think i mashed half a banana and melted it with the oats i might or might not have added sweetner oh and theres a possibility of PB but i really cant remember it would have been a good addition. on the top you see:
-the other half of the banana sliced
-chocolate chips
-that awesome trader joes bran cereal. there little cinnamon roll shapes
-a dollup of vanilla soy yogurt sprinkled with brown sugar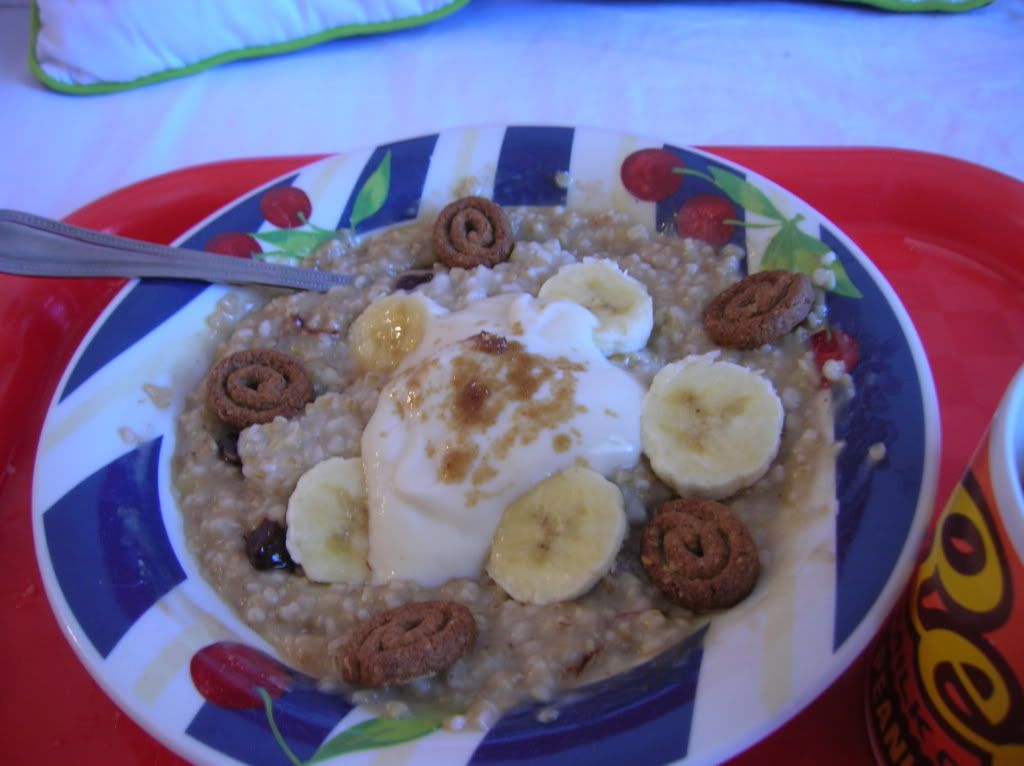 next i had some thing[i dont know WHAT to call it] i made using up some stuff in our fridge.
i mixed some potatoes, spinich, and vegenaise together and i think that was all.
i stuffed that between to eggplant cutlets poured some marinara ontop and added a bit of teese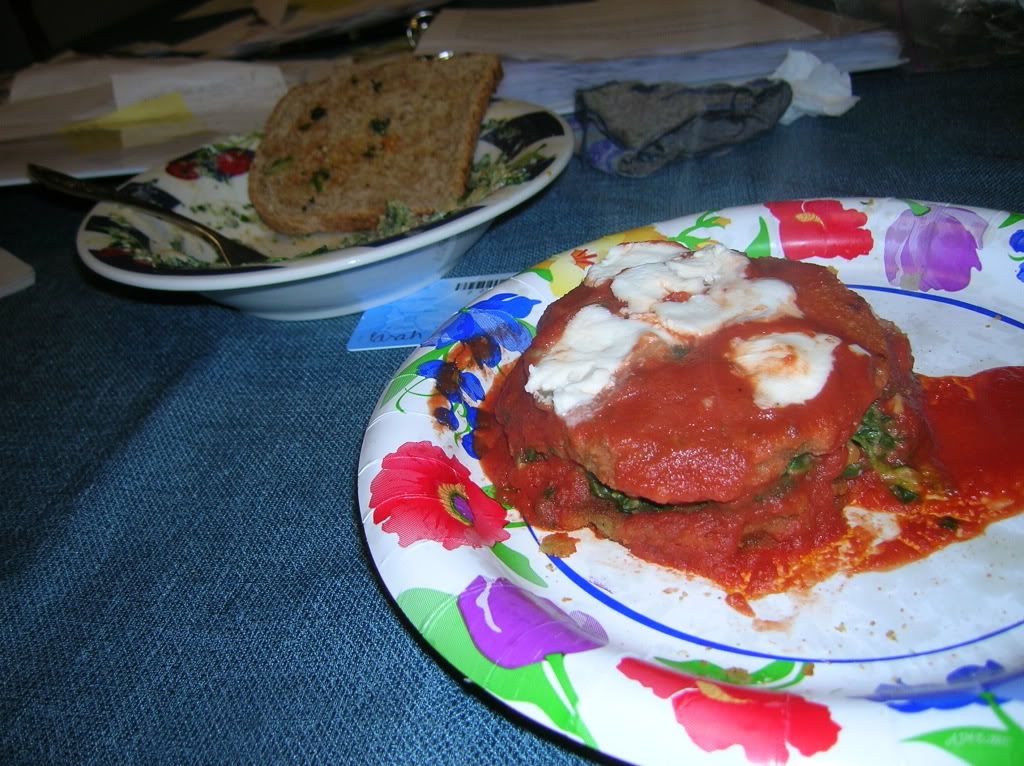 i think it was two nights ago i had at my second attempt to make......
SEITAN!
all right the last time it was really really tough and chewy
so i was like i need to knead!!!
so i needed this time for maybe like 15-20 minutes. much better this time but im still somewhat dissappointed and i think next time i make it im gonna do the traditional boiling method. i baked it the last two times because i used
this recipe.
we bought this hugfe bag of frozen stir fry veggies quite some time ago so i used that for the veggies and i made some plain white rice to go with it.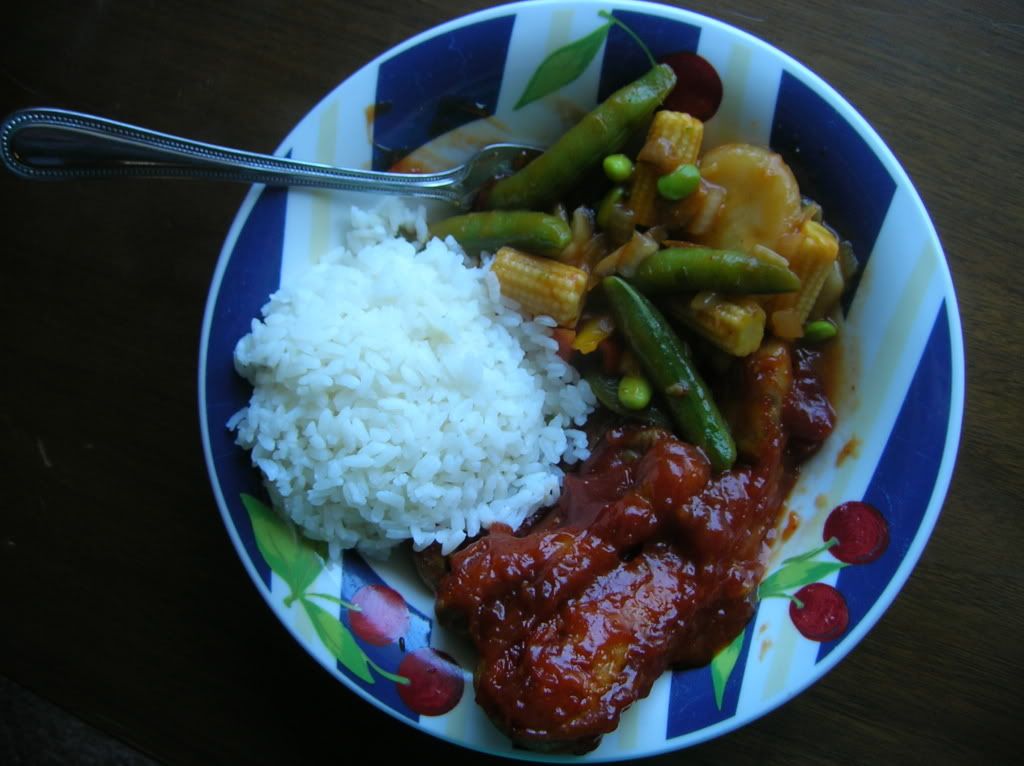 later that night i used the left over rice to make some delisshhhhhhh rice pudding. yum yum yum sorry no photo, lol.
i just took the rice added some milk and sugar and heated it up until it thickened. then i added cinnamon vanilla and nutmeg. i think that was pretty much it. i made it so i could have it for bfast the next day...but i almost ate it all that night. ha
also using the left over seitan and veggies i just threw that in a pita for leftover dinner last night.
and the last food post was my huge breakfast lunch meal i had today. kept me really full.
i got some tj's meatballs[vegan ofcourse] heated them up with some spinich[pi just love that stuff :)] and i used the last of "nacho cheese" sauce ive had in my fridge all week (i was craving nachos earlier in the week...didnt really fit the bill. sorry most of the vegan cheese sauces ive tried really dont taste like cheese but i proceded using in bean burritos etc throughout the week) sorry totally did like a bunny trail thing there but anyways i just slapped the rest of that on the meatballs and spinich and stuffed it in a whole wheat pita. it was realllyyy good!!!
for the fries i mixed up about a tablespoon of veganaise, some lemon juice and dried herbs [oregano, basil, rosemary, & some garlic salt] i poured that over some frozed tj's crinkle cut potatoes and put them in the toaster oven.
served with some apples.
and thats all i guess.
im gonna make another post soon about some other stuff ive been thinking about lately...
ps. dont you love how most of these photos were taken in daylight?!?!
yay me!!
it sorta has to do with the fact that ive been trying to not eat for a while before i go to bed and wanting to get to sleep earlier