the other day i bought a bowl of TJ's Vegan Pad Thai[it comes frozen then you microwave it][and actually my mom bought it for me..just thought id give her credit lol].
it takes about 5 minutes in the microwave.
while i waited i did squats....haha
basically it was tasty and good if you dont have much time!....or if your feeling lazy.
i was happy to see nothing weird although there is kinda a bit much sugar.
one thing i was kinda sad to see was that it had 600 calories!! 600!!! and ok....this is crazy.
118
CARBS! one serving!
my original plan was to eat half but i ate the whole thing. it certainly didnt feel like 600 calories. it was relatively low fat though i guess.
heres a photo; i dont know how to link it to make it bigger and my bros bugging me to get off so sorry!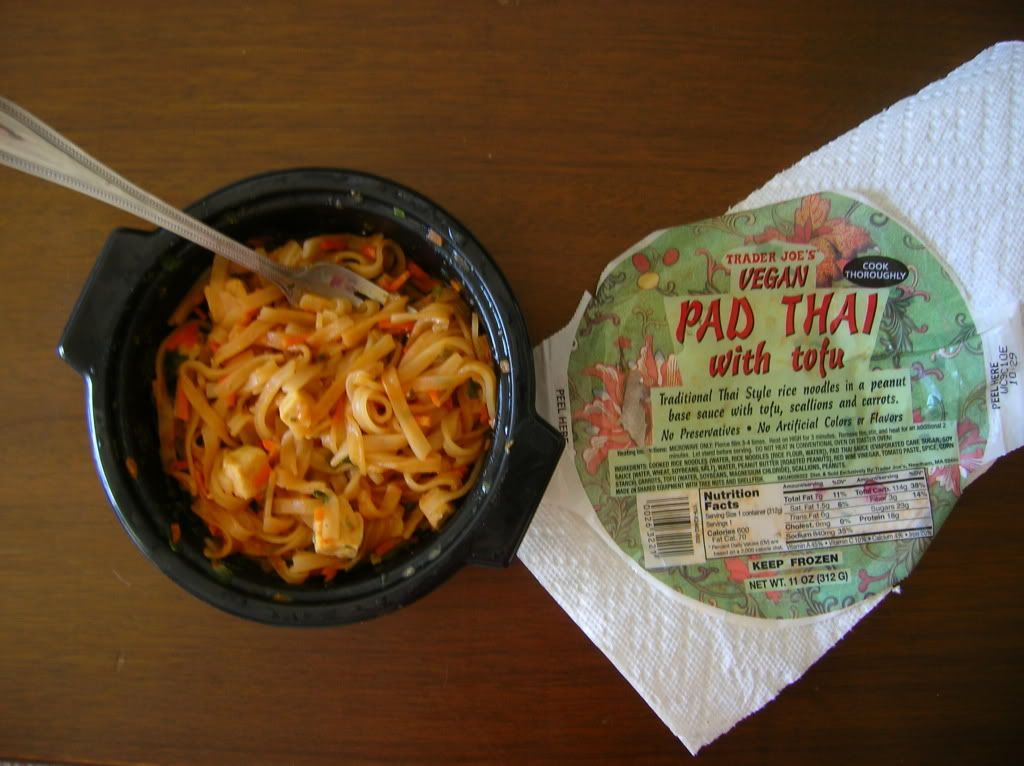 second up we have pancakes i made this morning...actually it was more afternoony since i woke at twelve....heheh
in the spirit of Chocolate Covered Katie's Pancake
bonanza
i decided to venture out and make some pancakes i never had before. i had great success previously using a WW recipe i found on the 'net a while back but im not gonna link cause right now i dont know where it is!!! maybe ill show you later or something.
anyways here it is beofore i devored them: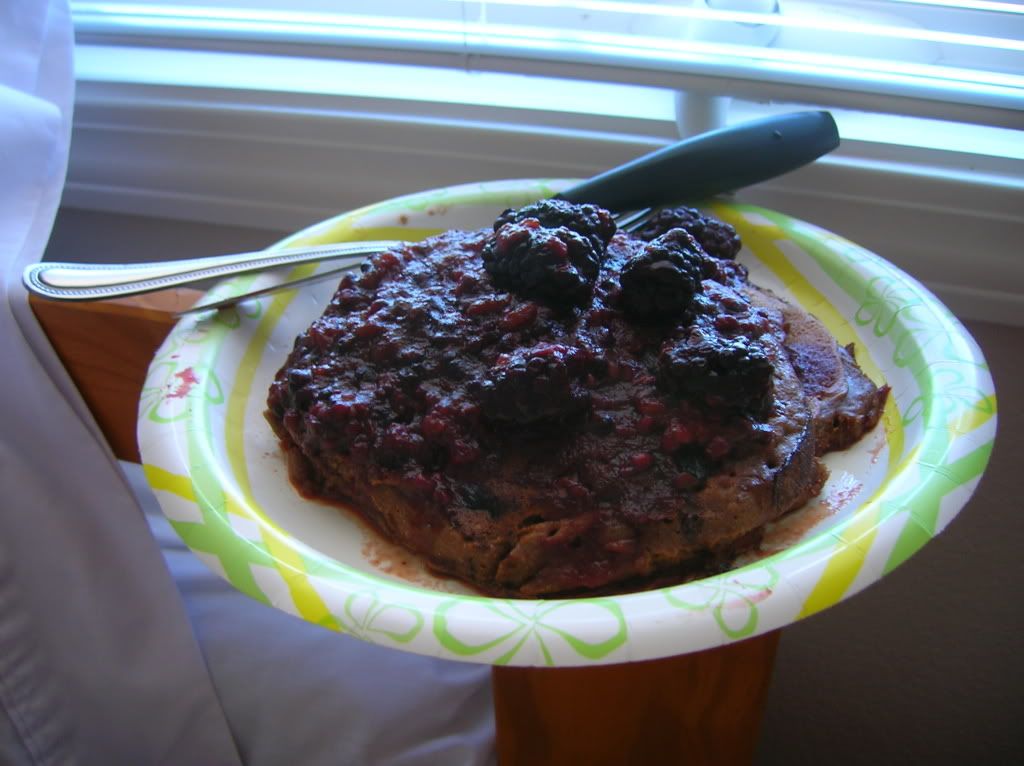 Double Chocolate Blackberry Banana Pancakes.
i used the recipe i had[a great one nice a fluffy] but i supped one of the TBSP's of flour for some cocoa powder[you should/could probably use more] and i added a few choc chips to the 'cakes. voila double choc pancakes. then i made a sauce like substance to top it off.
to do this i used half a banana mashed, some blackberries, some molasses[maybe like a TBSP, you could probably use somehting else if you dont like molasses, but i do], and water. i nuked it [microwaved] for a bit then dumped it on the pancakes. it was good!!
im trying to cut down on added sugar[really doesnt sound like it, huh? haha] and sweets/desserts. but that doesnt include fruit!! so basically if i wanted to kick down the sugar on this i could have probably left out the molasses in the sauce[berries are wonderfully naturaly sweet&amazing] and for the actual pancakes i could probably take out the sugar[the recipes calls for 1 TBSP of brown sugar] and just made regular ones without the chocolate chips and cocoa powder i guess.
ok im almost done. as you can tell my blog is kinda a myriad of things. things i like of course[hence the title..i know, uncreative]. and since im all about organization, ive been thinking if i start blogging more ill do like speical days dedicated to certain topics. like food thursdays or something. so well see!
ok thats all or now, possibly nonexistant readers! haha ;D